We are Operation Northern Comfort
Operation Northern Comfort is a non-profit organization based in Central New York that is committed to serving the surrounding communities by providing labor, donations, and support in any time of need. Whether it is delivering furniture, painting a room or organizing a fundraiser, the volunteers at ONC will do whatever they can to help.
Crawfish Festival t-shirt design contest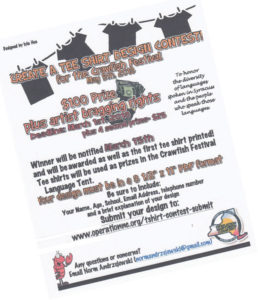 This contest aims to celebrate the diversity of languages spoken in Syracuse and the people who speak them!
Deadline: March 1, 2018
1st Prize $100 and bragging rights!
4 runner-up designs will receive $25
Winner will be announced March 15th
Designs should be submitted in a 8.5 x 11 .pdf format
Include with your submission your name, age, school, email address, telephone number, and a brief explanation of your design
Questions? email Norm Andrzejewski (normandrzejewski@gmail.com)


Volunteer
Interested in becoming part of our team? We can always use the help!

Donate
We put to work every dollar that is donated to our organization.

Projects
Have a look at the current projects we're working on.

Contact Us
Have a question? We love hearing from members of our community!
What is Operation Northern Comfort all about?
In 2005 after Hurricane Katrina hit the Gulf Coast, Operation Southern Comfort (OSC) was formed. 50 trips were taken to the ravaged parts of Louisiana and Mississippi to rehabilitate, rebuild and repair homes – and lives. 2200 volunteers, including 1200 students, participated in the 9-day events – traveling the 1400 miles on the weekend, working for 5 days, and returning (1400 miles again!) the following weekend. OSC built 4 homes and worked on over 200 more; planted 13000 trees, donated 3 trailers full of school supplies, books, clothing and musical instruments and brought hope to thousands of Gulf Coast residents.
In 2012 it became apparent that there were people in CNY that could use help. That is how Operation Northern Comfort was born. We fix bathrooms, enlarge doors, build ramps – whatever we can physically do, we do. In 2014 we built a home after a fire destroyed one – our first house build in CNY. As we grow, we are partnering with Tiny Homes for Good to build homes in Syracuse for people, including veterans facing homelessness.
Anyone can send in a request for help; those requests are forwarded to the jobs committee, which will contact the requester and review the project. Any request received is considered.
To see the slide show history of Operation Southern and Northern Comfort, click here.
Special thanks to our sponsors!